How to Manage Multiple WordPress Sites Under One Roof?
Wondering how to manage multiple WordPress sites without having to login to every one of them individually? WordPress is one of the easiest CMS to learn and is probably the most preferred among the people to go online with their business. Every step of the setup of a WordPress blog or website is extremely easy and the website itself will be up and running in five minutes after you have all the domain and hosting registered.
But despite being very easy to handle, there are certain things on the WordPress CMS itself that are not yet known to many people. Managing just one blog on it is an easy task, but managing multiple blogs is not that easy.
If you have multiple blogs, you might feel a little let down by the fact that you will have to log in to the backend of every one of them individually. But, did you know that WordPress itself has a few ways with which you can manage and scale up your business with many such websites and blogs from just one single login?
Sounds cool, right?
Let's find out the best and the most effective ways on how to manage multiple WordPress sites right from one dashboard.
Effective Tools on How to Manage Multiple WordPress Sites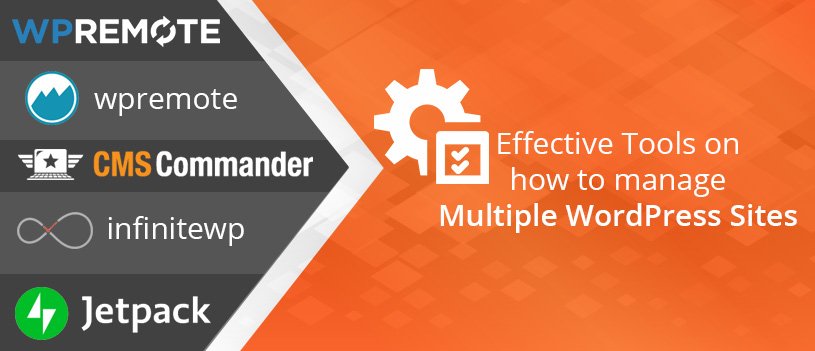 When we are speaking about managing multiple WordPress websites from one dashboard, we inevitably mean the usage of different tools that would help to do so. Here are they.
ManageWP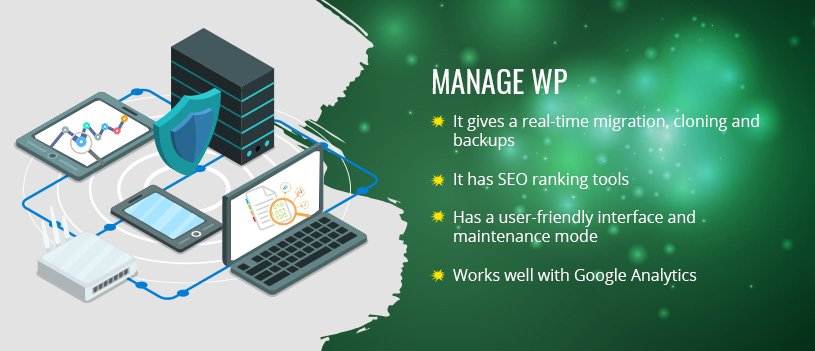 ManageWP is one of the many freemium applications on the internet. This means, it comes free for all the basic and core features and anything addition needs to be purchased in-app. However, the bundled premium add-ons are quite conveniently priced with extreme flexibility.
The first step before using the service is that you will need to log in to the ManageWP account with the email and the website.
Important features
It gives real-time migration, cloning, and backups
It has SEO ranking tools
Has a user-friendly interface and maintenance mode
Works well with Google Analytics
WP Remote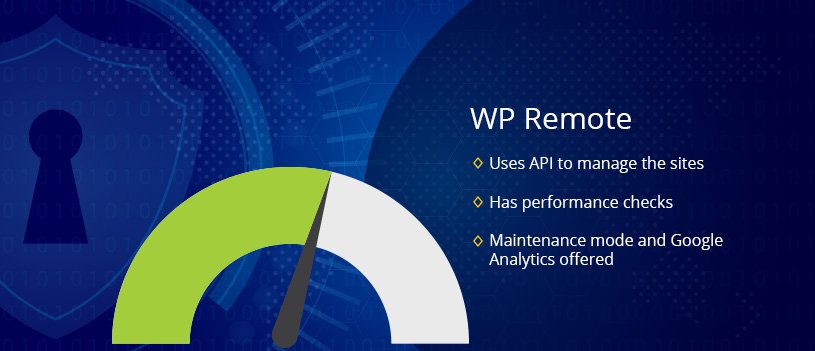 The WP Remote is probably the best plugin to manage multiple WordPress sites in one dashboard for intermediates and beginners. The reasons that make it a good one for beginners are the highly user-friendly interface and the free price tag that it comes in.
It does not even have premium add-ons or subscriptions to buy and everything that is offered is bundled up for free. However, the number of features are limited.
Important features
Uses API to manage the sites
Has performance checks
Maintenance mode and Google Analytics offered
Jetpack Manage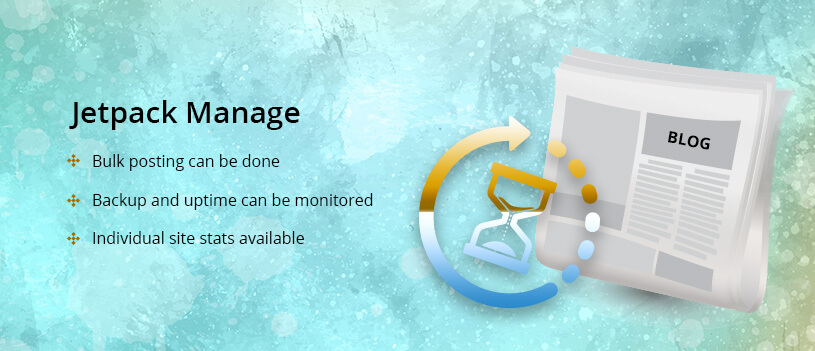 If you are dealing with WordPress even for the shortest period of time, you may have heard about Jetpack. It is probably the biggest boon for starters and equally important for experts. And with such a good reputation to work with, the Jetpack Manage turns out to be one of the best plugins to automate and manage multiple WordPress sites from one dashboard.
Newbie bloggers will absolutely love this plugin as just by simple toggling around the options, they can post contents for all the websites right from one control center. You can also view all of the site stats and switch between the websites without a fuss.
Important features
Bulk posting can be done
Backup and uptime can be monitored
Individual site stats available
CMS Commander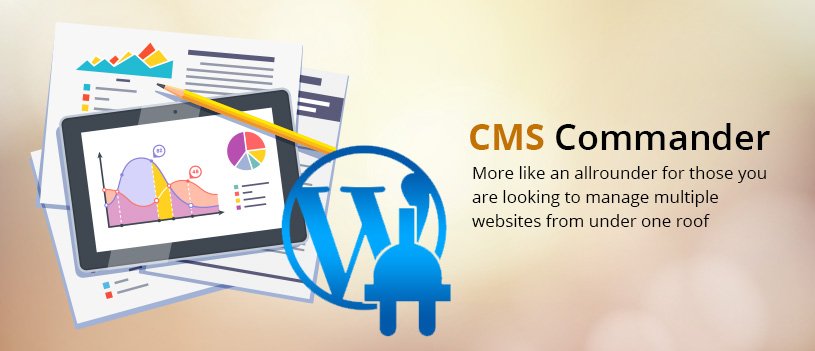 CMS Commander is more like an allrounder for those you are looking to manage multiple websites from under one roof. The dashboard of the plugin looks very similar to the native WordPress dashboard. Plus, it is extremely easy to create new websites directly from this plugin itself.
And since the CMS Commander is so much vital and an allrounder, it does not have a pre-price tag or is not even a freemium app. You only get a month's free subscription and after that, it will need to be purchased. The price is, however, not very pocket-pinching and can easily be afforded by the people who intend to manage multiple website or blogs.
Important features
Backlinks and page-speed can be tracked easily
Bulk installation of plugins
Bulk posts can be made to almost any number of blogs
Security scans and their report are part of the client's report
InfiniteWP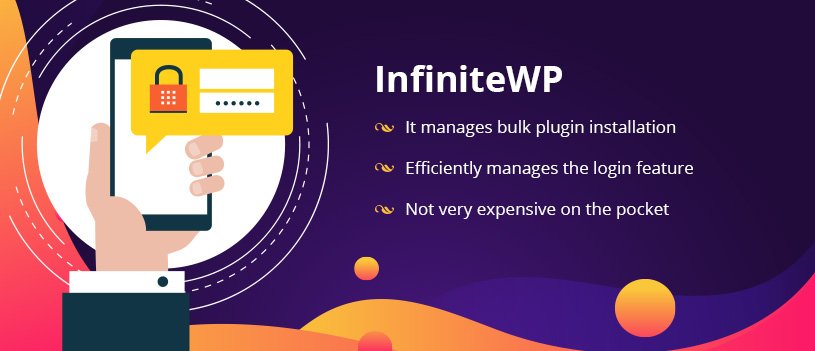 The InfiniteWP is another plugin up the block that can manage multiple WordPress sites right from one dashboard. And for a good news starter, it is a freemium system. Hence, all of the basics are offered free of cost.
However, the number of basics are very limited and the users have to opt for the premium paid add-ons to enjoy most of the functionalities. The dashboard is simplistic yet extremely detailed. You can just hover the pointer to the site name and it will show up a lot of details including update, backup and many more.
Important features
It manages bulk plugin installation
Efficiently manages the login feature
Not very expensive on the pocket
How should you choose?
Choose the right thing for you can always be a difficult task. But here is an extremely simplified recommendation. WP Remote, which is a free plugin is definitely the option to go with for early beginners and novices. The positive here is that it is free, which would be a delight for everyone who has just started as a hobby. However, once you see signs of growth of your business, would actually a very wise decision to switch over to a freemium one.
On the contrary, big business and processes, who manage multiple websites and blogs and make it big out of the online presence, a freemium plugin or a paid one is absolutely recommended. The moment you choose for a freemium one and get the paid add-on, you can be sure that you will receive some features that free software do not offer.
Summary
Gone are the days when managing multiple WordPress sites were considered to be difficult. You no longer need to log in to every site individually to make management changes, posts or analyze stats. With the help of some freemium and premium plugins, managing multiple sites on WordPress is extremely easy. These data will convince you to choose WordPress rather than any other platform to design and develop WordPress multisite.
Their setup isn't difficult at all and they promise to offer every bit of the features that you would need.

Author:
Sasikala K
Be Yourself, Because an Original is Worth more than a Copy!!!