Is WordPress Easy to Learn for a Business Owner to Update His Website?
WordPress came into existence in 2003, and since then it has grown by leaps and bounds. Today, more than 25% of all the websites on the internet are powered by WordPress. Even large corporate houses like Mercedes-Benz, BBC, etc. are using it to power their website or blog. And if you are reading this article, chances are, you are also planning to create your next website or blog on WordPress. But the question is, is WordPress easy to learn?
In 2003, well-known web developers, Matt Mullenweg and Mike Little, launched WordPress. A friend of Mullenweg, Christine Tremoulet, advised for this name. Based on PHP and MySQL, the WordPress was initially received as a platform for creating blogs. However, with time, the community around it grew, which contributed much to its development as a full-blown content management system, which can now be used to create any kind of website.
Though you can take the easier route and simply hire a WordPress developer, but mark my words, managing WordPress is pretty simple and straightforward. Just learn the basics and you are good to go.
Is WordPress Easy to Learn?

There is a reason why WordPress is the most popular content management system in the world i.e. It is the easiest CMS to learn. Here are a few reasons that make it so easy to learn.
Easy to install: WordPress is known for its famous 5-minute installation. You can either install it through the cPanel of your hosting account or through FTP. Either way, it's very easy to install and doesn't take more than five minutes.
Easy UI: The backend of WordPress has a very neat and easy to understand user interface. Even a newbie can easily understand and manage content using WordPress. Regular features like creating pages, publishing blog posts etc. are pretty straightforward.
Easy availability of tutorials: Search the web for WordPress tutorials and you will be surprised with the abundance of information available. From installing to managing content, online blogs and YouTube channels are full of WordPress tutorials, that too for free.
Plugins for everything: You don't need to be a coder to create a feature-packed website. WordPress has a repository of plugins, where you can get a plugin for almost every feature you want to add to your website. In addition, there are hundreds of independent WordPress developers who offer paid plugins with advanced features.
Gorgeous themes: Just like the plugins, WordPress has a repository for themes as well. Just install a theme of your choice, customize it as per your taste and that's it. Your perfectly designed website is ready.
Where to learn?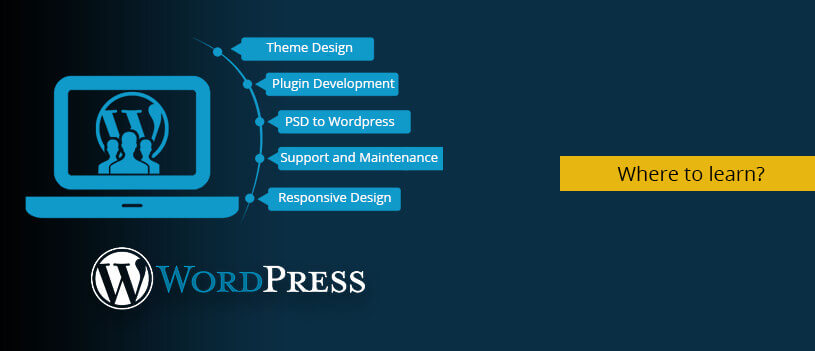 The best place to start could be the WordPress Codex, which is like a knowledge base created by WordPress itself. However, the codex uses technically advanced language and hence, sometimes the terms and definitions could become overwhelming.
 On the internet, there are hundreds of blogs that publish WordPress tutorials in an easy-to-understand language. Just search for WordPress tutorials on Google, and start with the one you find most appropriate.
 If you like watching videos more than reading articles for learning new things, head to Youtube, which is filled with hundreds of channels made exclusively to teach WordPress to the newbies.
What to Learn?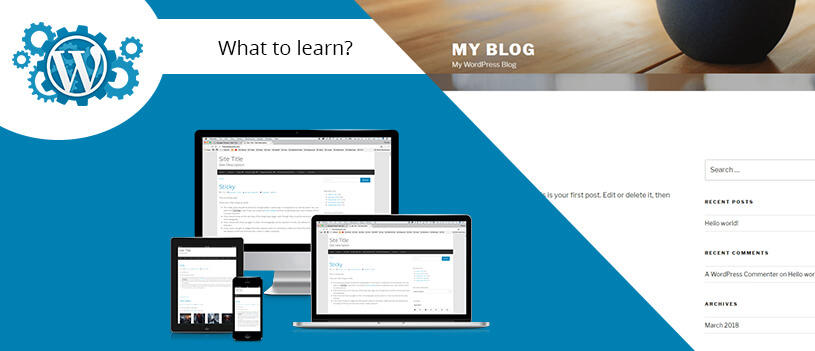 So now that you have an answer of your question, is WordPress easy to learn, it's time to understand what to learn. Despite being an easy-to-use software, WordPress is a vast subject in itself, covering every aspect of which can become overwhelming. Depending on how you intend to use WordPress for the growth of your business, you can simply choose to learn the parts you would require to achieve your goals. Here's a breakdown of the different aspects of WordPress.
WordPress Installation
As mentioned earlier, WordPress can be installed in two different ways. If you have ever used FTP (File Transfer Protocol), you can choose its famous 5-minutes installation process, where you will need to download the files from WordPress.org and upload it to your server via FTP.
However, if this sounds complex to you, you can simply login to the cPanel of your hosting account and use the software installer app (Softaculous is the most popular one). Select the domain where you want to install WordPress, fill in the required details, and click on the install button.
Although the process is pretty simple, but if you are stuck somewhere, feel free to use Google or YouTube for help.
Managing WordPress
Once WordPress is installed, you can use it either to create a website for your business or if you already have a website created for your business, you can use WordPress to add a blog to your website in order to boost your SEO rankings.
For creating a website out of it, you will need to understand how posts and pages work. You can create pages like Home, About, Contact, Privacy Policy etc. easily. You will also need to learn how a menu is created in WordPress.
Themes and Plugins
WordPress offers a great deal of customization through its themes and plugins, which is the main reason why it's so popular. You can create almost any kind of website you wish to make without even touching a line of code. However, you need to learn and understand this ecosystem of themes and plugins.
As mentioned earlier, WordPress has a repository of free themes and plugins. In addition, there are various marketplaces where you can buy the paid ones that come with an advanced set of features.
Backup and Restoration
It takes a lot of hard work and learning to create an efficient website for your business, but everything can vanish within a matter of seconds. A malware attack, a wrong plugin, or a code error, there could be a hundred of reasons that could take down your WordPress website.
It is very important to understand the backup and restoration process. There are various plugins that let you take periodic backups so that if anything goes wrong, you do not have to start again from the scratch. Moreover, having an understanding of backup and restoration process also helps when you are shifting your website from one host to another.
WordPress.com vs WordPress.org
People, especially newbies, often confuse WordPress.org with WordPress.com. This is important to understand. While using WordPress.com, you create a website on WordPress's server, and the free version comes with a subdomain facility (e.g example.wordpress.com). While the WordPress.org (aka self-hosted WordPress), you install the WordPress application on your own server provided to you by your hosting company.
If you want to create a basic website without much customization required, WordPress.com could be a great option. However, if you want complete over your website and want to experiment and learn, go for WordPress.org.
Should you Learn?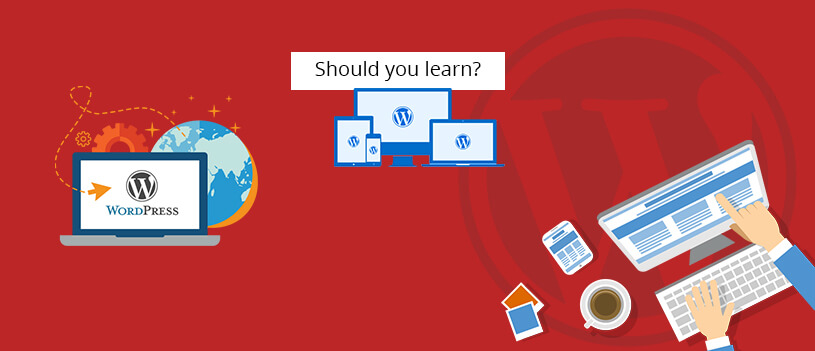 Yes, obviously!
If you are a business owner, looking to manage your web presence yourself, there's no reason you shouldn't give it a try. It's easy, costs nothing and lets you create great websites without much effort.
So next time if someone asks you, Is WordPress easy to learn, you know what to answer, right?

Be Yourself, Because an Original is Worth more than a Copy!!!
Tags:
business
,
Learn WordPress
,
wordpress