What is the Most Important Digital Marketing Metrics Everyone Should Know?
One of the gravest mistakes people make while running a digital marketing campaign is the miss tracking the most important digital marketing metrics. People often think, why am I not getting the digital marketing results as promised? Am I investing money at the wrong place? Or is digital marketing is totally waste of resources? If this is what bothers you; then let me tell, you are not the only one to think so. There are various businessmen who invest in digital marketing plans with little results. Now here comes the important question – How do I make my digital marketing game?
To get the answer, it is important to track the most important digital marketing metrics that are critical in positively impacting the revenue being generated. The digital marketing is driven by key metrics that guide potential traffic to your business website.
However, if you still think digital marketing is not that helpful, then think again, because your competitors are using it and giving their best. In case the process of data tracking on a regular basis is still new for you, then read on to become a pro.
Most important digital marketing metrics you shouldn't miss tracking?
Website Visitors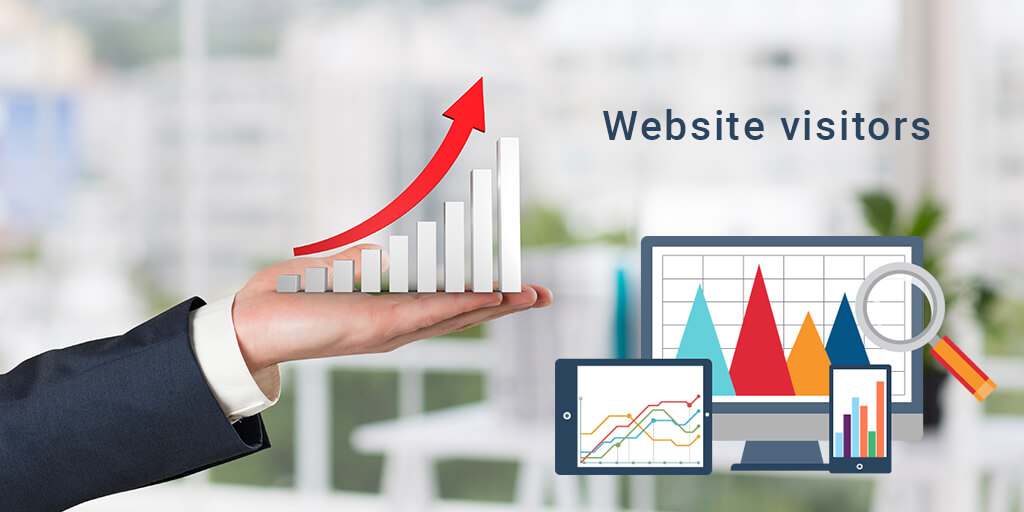 The ultimate top of the funnel metric in digital marketing is a website. Visitors to website act as a key metric to explain efficacy of your digital marketing plan. However, importance of digital marketing strategies have argued there exists no potential correlation between the growth in revenue with respect to visitors in digital marketing. Website visitors constitutes of potential sources of traffic. These potential customers even include people who found your business website through organic search and back-links from the third party websites. However, there exists a series of potential for customers to find your business name through email marketing or even through social media strategy. After you aggregate these sources, you get a clear idea about your website visitors. This, later, act as a reflective entity to design the key components of digital marketing and execution for more leads in business.
Site-wide Rate of Conversion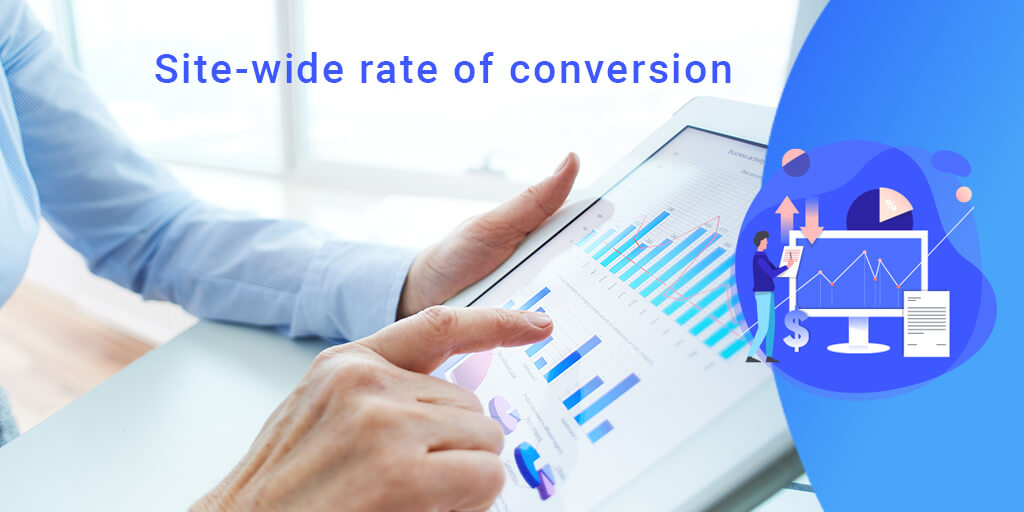 What good is your digital plan if it fails to provide you with strong rates of conversion? However, when you start looking for the answer regarding the average rate of site conversion, then there is a simple answer that you will find, which is, the site wide rate of conversion depends on the industry average. Despite the range of disparity related to "it depends" controversy, there exists a fixed range of site wide rate conversion approximately ranging from 1% to 3%. Sites with poor digital marketing plans usually have the conversion rates below 1%, there exists companies that have conversion rates ranging up to 10%, yet that again depends on the industry and conversion strategy being applied.
At times people struggle to even reach the 3%; however it is not even that hard; just two tools are enough to carry out site wide conversion. According to the digital marketing experts, those two important tools are:
Engaging content
Good landing page
Do you have a good landing page, but still facing issues with site wide rate of conversion? Then chances are there may be issues with content. It is also important to have the content placed at the right place where your targeted audience can view it.
Conversion Rate of the Top Visited Site Pages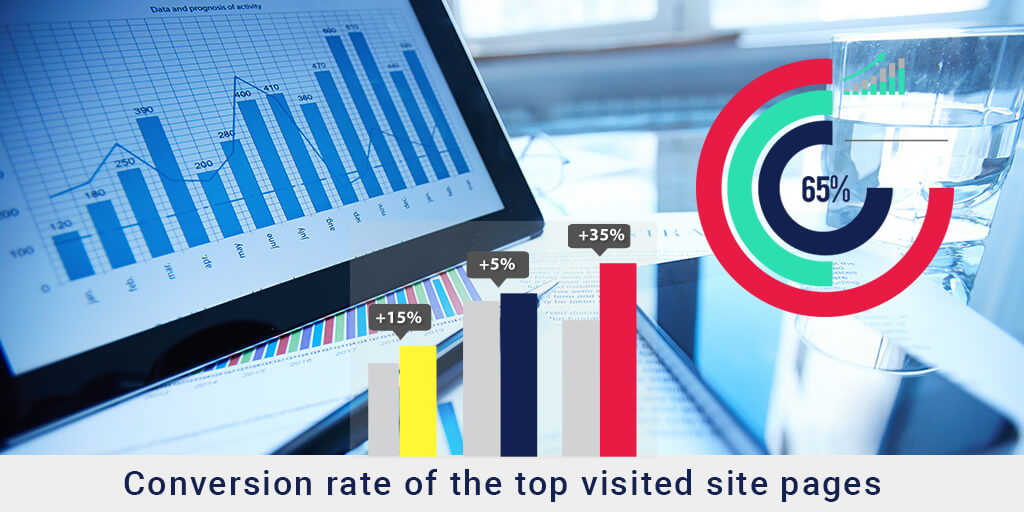 To a person who has been new to the industry is the most important digital marketing metrics, "Conversion rate on Top Visited site page" and "Site-wide rate of conversion" may appear the same. However, they are different based on the frequency of conversion. As compared to site wide conversion rates, page specific conversion rate is significantly higher with a range of 65%. Hence, the metric derived from this place is looking at conversion rate for the top most visited page of a particular site. In order to track how your business is proceeding, it is important to track two important pages of your website:
The web page that contains all the products or services your business can provide
Pricing page that provides a clear insight to buy
Higher rate of conversion at price page acts as a clear indication for your sales team to gear up for more sales. Hence, to drive more visitors, the optimization of pages with wide conversion rate is a good way to start with.
Visitors Earned Through Organic Search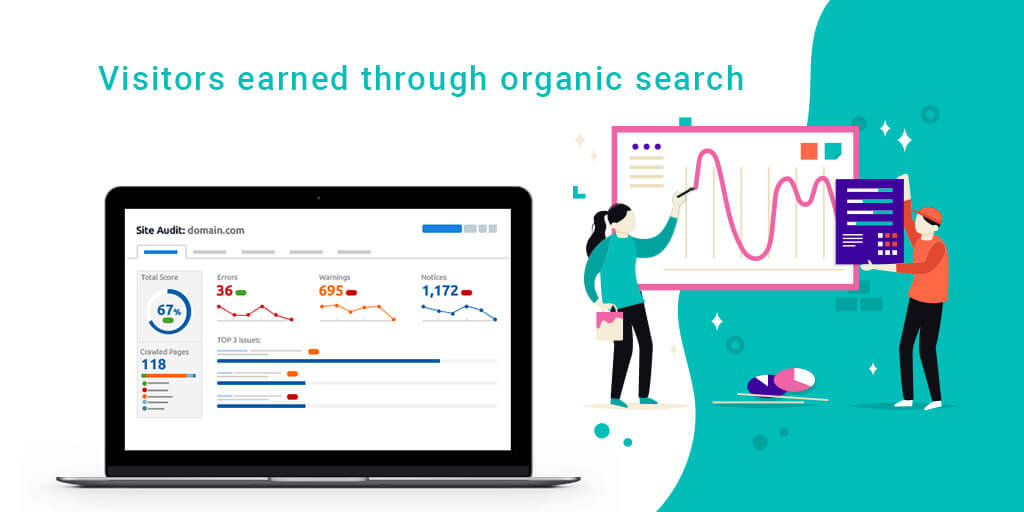 Search engine traffic is free and converts well. Hence, it is important to know the number of visitors your business gets from Google. A good result indicates how well your website is in compliance with Google analytics. That helps people to reach out to you while searching for something similar to your business.
For example the best plumber in the world might work in the flat next to me. However, I may fail to recognize him since his business is not visible that makes him lose a lot of potential clients thereby affecting his business.
In case you fail to create your visibility on the search engine, you remain invisible to your potential clients. There exist no benchmarks for organic visitors; however, it is important to make sure the number and not actual percentage increases every month.
The increase in organic visitors can achieve in two ways:
Optimize your website, make it responsive and device friendly with minimum page load time.
Make it engaging with quality content by optimizing your keywords that people are likely to use for your business related search.
Hence, working on technical SEO backed with strong content can improve the number of visitors related to organic search. Moreover, being organic is good both for human health and website.
Blog Subscribers
The importance of blogging in digital marketing cannot be stressed enough. From a general point of view, it can be easily stated that blogging helps to provide visibility to your company. However, from a technical perspective, blogging more articles gives your website higher chances of getting ranked due to more number of indexed pages. With an increasing amount of blogging done by business, each article drives more sales related leads. Driving subscribers to blog is an art that requires a bit of scientific knowledge. Here are a few steps that you can take to ascertain a great conversion through your blog:
You need to make it easier for your clients to subscribe to the blog.
Make sure the blog is in compliance with the regulations of GDPR or CASL.
Make sure that subscribers are able to pick up their notification frequency.
Finally
It is important to confirm that salesperson is on continuous work of filtering out new prospects through blog. Digital marketing experts have confirmed the need of blog is immense rather than business marketing; blogs also act as a good source of communication to existing clients and prospects. By making use of blogs, clients can share reviews regarding business and thus increase your market value.
These are the most important digital marketing metrics you should keep a track to understand the effective of your campaigns. Once you are well accustomed with the most important digital marketing metrics, it will appear easy to understand and apply. It is important to have a real-time access to these mentioned metrics in order to make informed decisions related to marketing. The outcome involving tracking the importance of digital marketing metrics leads to improved traffic performance with efficient sales. However, these are just a few of the most important digital marketing metrics and a wide range of metrics can be added as per the business needs.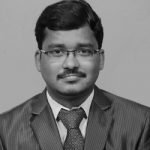 In a modern era website design and development will be a showcase for business. Internet marketing is a path way for customers to your business. Think Big and Achieve Big!
Tags:
business
,
Metrics
,
small business