How Chatbots Can be a Part of User Search Experience
User Search experience could be either for web search engines or it can be even for the Websites, Applications or Web. User Search Experience, yes you heard it right! Though it is very important to get the visitors to our websites, do we really take care of our website visitors? Do we consider the importance of providing a great user experience, which has its own significance? As you are a user of my website, so creating a stunning experience for you would be my first goal. Henceforth, it is very crucial for us to understand the user search expectations.
Web Developers always try to employ the new upcoming technologies, where the possibilities will go endlessly for users who can make the most out of it with the offered products and services. Having a website for the business can help you grow sales and leads, if and only if the website is designed perfectly with simplified search user experience. Incorporating good search experience on the website is just like having a conversation between the visitors and the application or a website. For the website's external popularity, having a great user search experience is a measurable benefit.
Henceforth, with the advanced technologies that are emerging in the world of internet the Chatbots is on the upper hand.
What is a Chatbot?
Well, A Chatbot is a service or artificial intelligence software, which is powered by automated rules for user interaction via chat interfaces.
Why make Chatbots for an App / Website?
Over the past decade, quite a bit of advancement has been made and these Chatbots are created with a purpose, which helps you grow your business in the ways, where you might have never imagined. These awesome Chatbots are such a big business opportunity driving a great ROI for your business.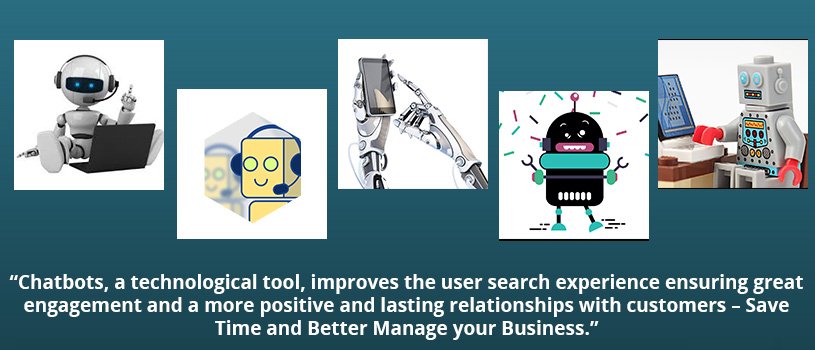 The next most important question for a business owner is how these chatbots can be a part of the user search experience. Well, in every walk of this digital world, the user relies on several different forms of automated rules and artificial intelligence for performing tasks. The key feature of implementing chatbot is its ability for simulating a human conversation because of rhetorical behavior, which improves via constant interaction with web visitors.
While considering real-time examples, a few types of industry where chatbots can be a big mark includes Online Shopping Bot, Education Bot, Food Ordering Bot, and many more. These chatbots can affect the usability engagement of the customers by staying connected when you are online on the website/apps. Therefore, the use of chatbots on the website becomes a most important part of a website.
How does a Chatbot improve the user search experience?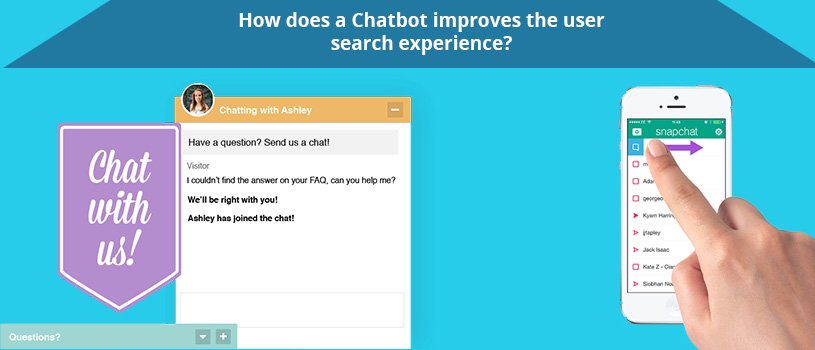 Always available for a consumer with a 24 / 7 Experience.
Without the need for external websites or Apps, Agile Task Management.
Makes your life easy with great Information Management.
A Chatbot can organize and process data in seconds.
Provides personalization by learning more about every individual user.
Chatbots have a great speed with an ability to know what users are quickly searching for.
Increases the levels of business efficiency by reducing the need to hire CSR.
Chatbots are great for explaining certain things as they ask questions for the users for providing information. Chatbots offer solutions focused on each user, which enables us to create unique user experiences based on their tastes and needs. This makes our consumer experience on websites more agile that adds a value to our brand perception building more positive relationships. However, the experience can become less positive as the chatbots are not voice-activated. This means the user must type every single information that takes a longer time to complete a task.
Hence, crafting a thoughtful, empathetic user experience will help to ensure that visitors to your site perceive the services and products positively, encourage them for sharing, bookmarking, return visits, and inbound links. All these signals trickle down to the search engines and contribute to high rankings.
Well, we should also remember that the Chatbots are still a machine learning tool. They could not be able to establish the real connection that normally occurs between human beings. In most cases some customers may find it unappealing. Though these chatbots are capable enough to recognize and make use of thousands of words for giving specific answers, still it would be difficult for them to replace human contact.
Why do Few People Have Doubts About Chatbots?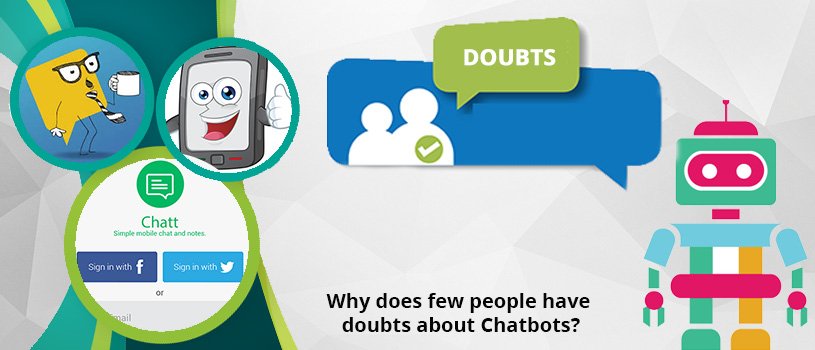 Very difficult to replace a human contact.
These chatbots can also become a spam.
The user experience isn't as instinctive on mobile phones.
Chatbots have an immense potential to explain things to the online users. Users can also ask questions until and unless they find an appropriate result. Hence, we can conclude that Chatbots will continue to make a big mark on User Search Experience (UX). With the help of wide range of customer data helping the customers make smarter decisions.
Many brands want to have a chatbot, because they believe it to be a perfect solution for better customer service. It can be the best replacement for a customer support to be online 24×7.
Find more interesting information about the online digital world, stay tuned with us. Don't forget to leave your comment below.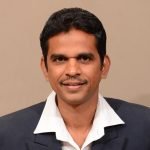 Power of working in Team, Team Work! The power of teamwork, make the impossible possible!
Tags:
Chatbots
,
Design
,
User Experience